How FreeUp connects thousands of companies and freelancers by using TalkJS
FreeUp is a freelancer marketplace that recently integrated TalkJS into its platform. We wanted to learn more about their setup, so we sat down with Matt Harrison, their VP of Strategy.
"If not for the chat we would continue to devalue our brand by not having FreeUp front and center with both clients and freelancers at all times."
- Matt Harrison, VP of Strategy at FreeUp
About FreeUp
FreeUp is one of the largest marketplaces that connects businesses with pre-vetted freelancers. They recruit and interview hundreds of freelancers every week, only allowing the top 1% into the network. Working with FreeUp will rid you of frustrations like making bad hires, freelancers disappearing, and long interview processes.
The platform makes it easy for business owners find the top 1% of virtual assistants, freelancers, and agency applicants in eCommerce, digital marketing, and web development.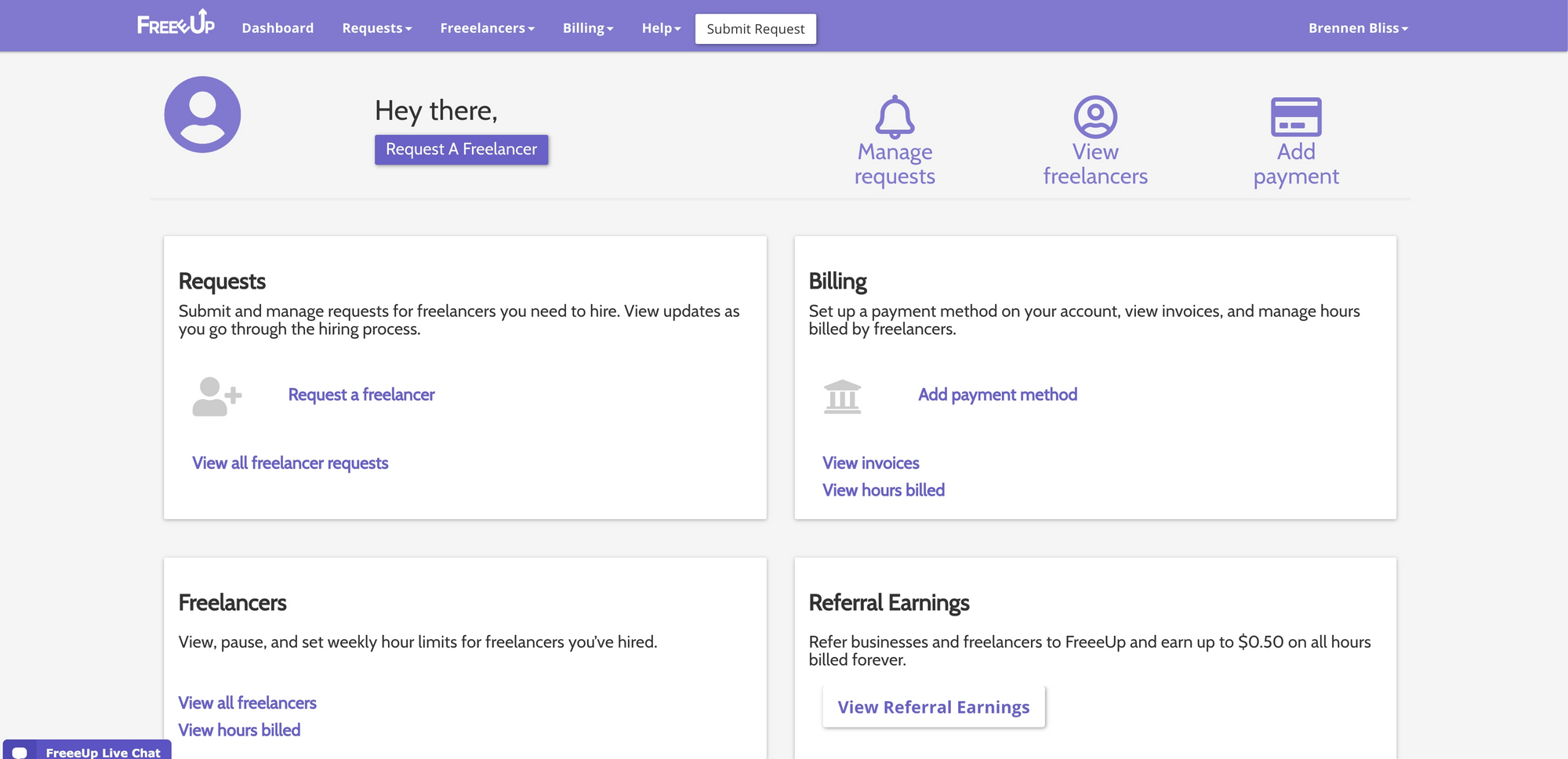 The challenge
The product team was aware that having users communicate only via email was an issue. They were just not sure how much it was impacting their platform. Essentially, they wanted to provide a better hiring experience for both businesses and freelancers.
"We understood that in order to better our product we needed both clients and freelancers to work within the platform and not via emails only."
- Matt Harrison, VP of Strategy at FreeUp
FreeUp is a marketplace where thousands of users are trying to get in contact with each other. It just made sense to integrate a chat feature and connect the supply and demand sides of the marketplace.
"We wanted to bring clients and freelancers together seamlessly within our app with chat"
- Matt Harrison, VP of Strategy at FreeUp
The solution
The main reason FreeUp went with TalkJS is the pre-built chat UI. It made it easy to embed the chat into the platform without doing much design and frontend work. To customize the look of the UI, the devs used the TalkJS Themes Editor to change a couple of lines of CSS, and the UI was ready.
"We considered SendBird and OpenTok, but chose TalkJS because it was easy to deploy."
- Matt Harrison, VP of Strategy at FreeUp
Another upside is an easy way to monitor the chat activity in the dashboard. The marketplace admins can get an overview of all conversations going on. In case a dispute happens between a business and a freelancer, they can easily view the messages and solve the issue.
"Now we can see how many clients and freelancers are interacting with one another. We can look at our dashboard and get broad overviews of what is happening within the application."
- Matt Harrison, VP of Strategy at FreeUp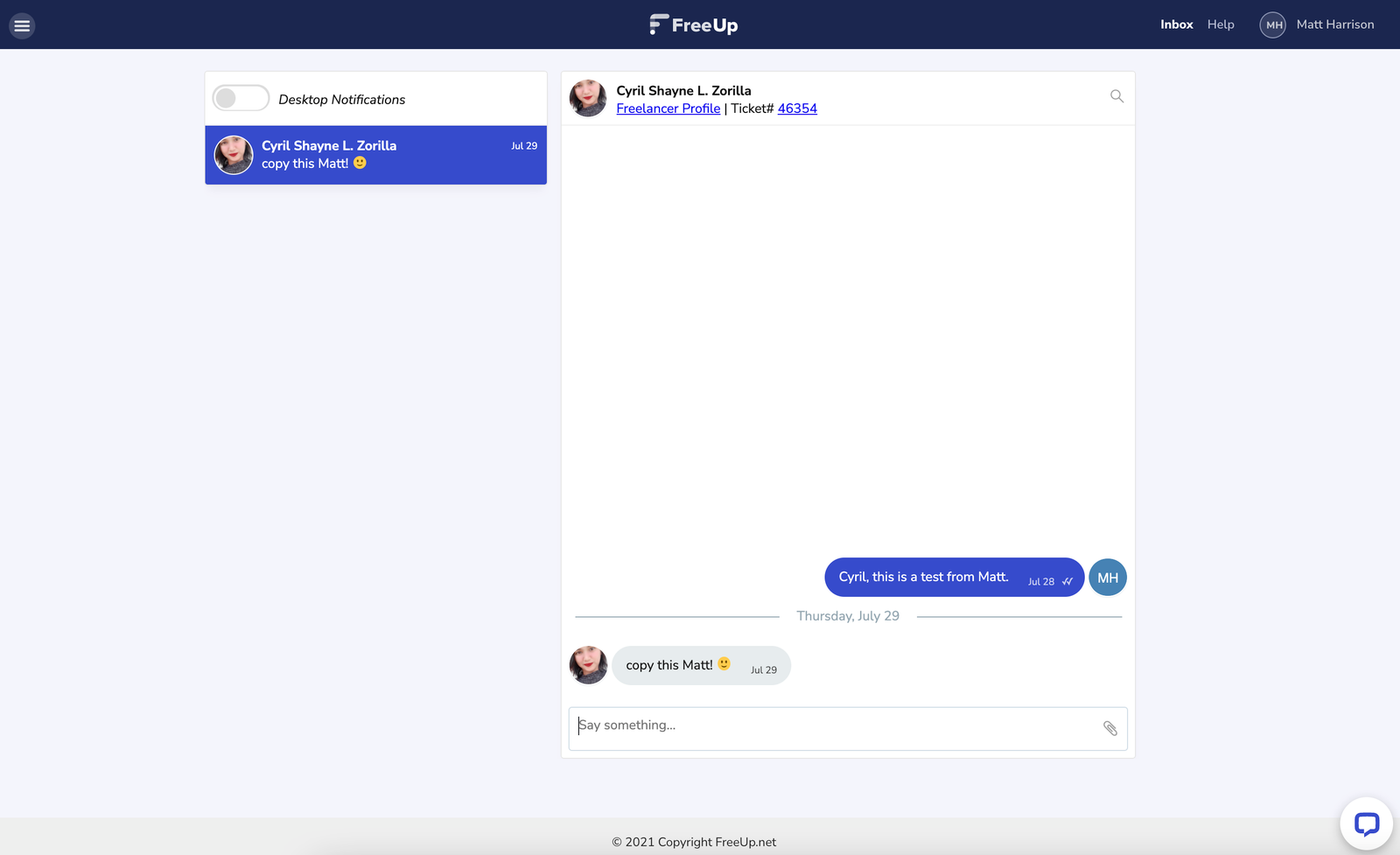 The results
Using the TalkJS chat API made the integration super easy without causing a significant workload on the dev team. Now, the users don't have to switch from FreeUp to email. They could easily chat on the platform, which does wonders for the hiring experience and overall brand perception.
"If not for the chat we would continue to devalue our brand by not having FreeUp front and center with both clients and freelancers at all times."
- Matt Harrison, VP of Strategy at FreeUp