Chat API & SDK comparison: TalkJS vs Applozic
Let's see how these two chat APIs compare both feature-wise and with regard to pricing. Both platforms provide core messaging capabilities, but the difference, as always, is in the details. We'll pinpoint the strengths and weaknesses of both solutions and showcase TalkJS as an Applozic alternative.
Table of contents:
Feature comparison
Both platforms support core messaging features like 1-on-1 chat, group chat, push notifications, typing indicators, and so on. Although, we did find some differences concerning chatbots, desktop notifications, and conversation search. Let's take a closer look at the advanced features to pinpoint the key differences.
The chat UI capability is the primary differentiator. TalkJS provides a complete chat solution, you get the backend and the frontend, with a pre-built chat UI for both web and mobile. Applozic lacks pre-built UI for websites and web applications. Meaning you'll have to build the chat UI from scratch.
Where Applozic stands out feature-wise, are its moderation and reporting capabilities. On higher-tier plans, customers can create custom reports and get advanced moderation features. While TalkJS offers basic moderation features, like roles, permissions, and profanity filters, but doesn't support reporting and the ban/mute users feature.
| | | |
| --- | --- | --- |
| Feature | TalkJS | Applozic |
| Available for web and mobile | ✔️ | ✔️ |
| Fully featured chat UI | ✔️ | ❌✔️ Only for mobile |
| Highly customizable UI theme | ✔️ | ❌ |
| UI design kit | ❌ | ❌✔️ Only for mobile |
| Multi-language user interface | ✔️ | ❌✔️ Only for mobile |
| On-premise installation | ✔️ Only with Enterprise plan | ❌ |
| 1-on-1 chat | ✔️ | ✔️ |
| Group chat | ✔️ | ✔️ |
| Rich media messaging | ✔️ | ✔️ |
| Webhooks | ✔️ | ✔️ |
| Full conversations history | ✔️ | ✔️ |
| File uploads | ✔️ | ✔️ |
| Location sharing | ✔️ | ✔️ |
| Search | ✔️ | ❌ |
| Roles and permissions | ✔️ | ✔️ |
| Profanity filter | ✔️ | ✔️ |
| Reporting | ❌ | ✔️ |
| Advanced moderation | ❌ | ✔️ |
| Real-time translation | ✔️ | ❌ |
| Read indicator | ✔️ | ✔️ |
| Typing indicator | ✔️ | ✔️ |
| Video chat | ❌ | ❌ |
| Voice chat | ❌ | ❌ |
| Push notifications | ✔️ | ✔️ |
| Email notifications | ✔️ | ✔️ |
| SMS notifications | ✔️ | ✔️ |
| Desktop notifications | ✔️ | ❌ |
| Reply-via-email directly (sync to chat) | ✔️ | ❌ |
| Mask contact info | ✔️ | ❓ |
| Chatbots | ✔️ | ❌ Third-party API integration needed |
Pricing comparison
The pricing plans for TalkJS and Applozic look similar on a first glance. But there's a significant difference concerning limitations per monthly active users (MAU) and concurrent users. While all TalkJS plans scale with the number of MAU, Applozic plans are limited with tiers for 10k, and 25k MAUs. Above that count, you're in Enterprise waters and need to contact sales for an estimate. The same applies to the number of concurrent users.
We've found the Starter plan rather weak compared with low-tier plans from other chat API providers. It offers only the most basic messaging features at a tight limit of 10k MAU. The Growth plan, on the other hand, looks like a good deal feature-wise.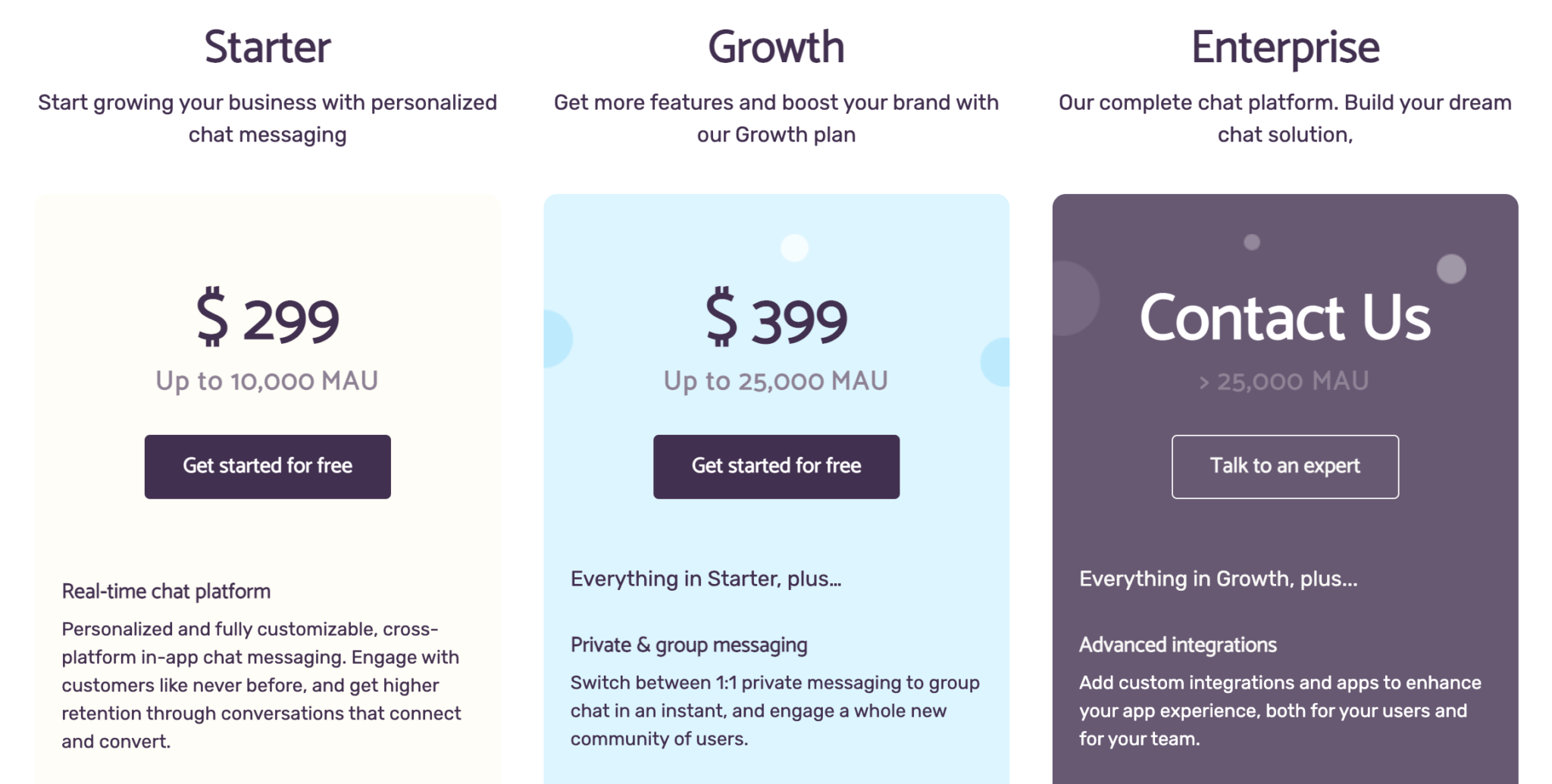 With regard to features, the TalkJS Basic and Growth plans provide core messaging essentials as well as some advanced ones like:
Pre-built UI
Customizable chat UI theme
Webhooks
Reply-via-email directly (email-chat sync)
Support via chat
Custom email notifications and domain (Growth)
Priority access to roadmap (Growth)
For use cases that require an on-premise installation, custom paperwork, a proper SLA, or guaranteed performance under heavy load, the Enterprise plan is a great fit. It also offers at-rest encryption and dedicated phone support.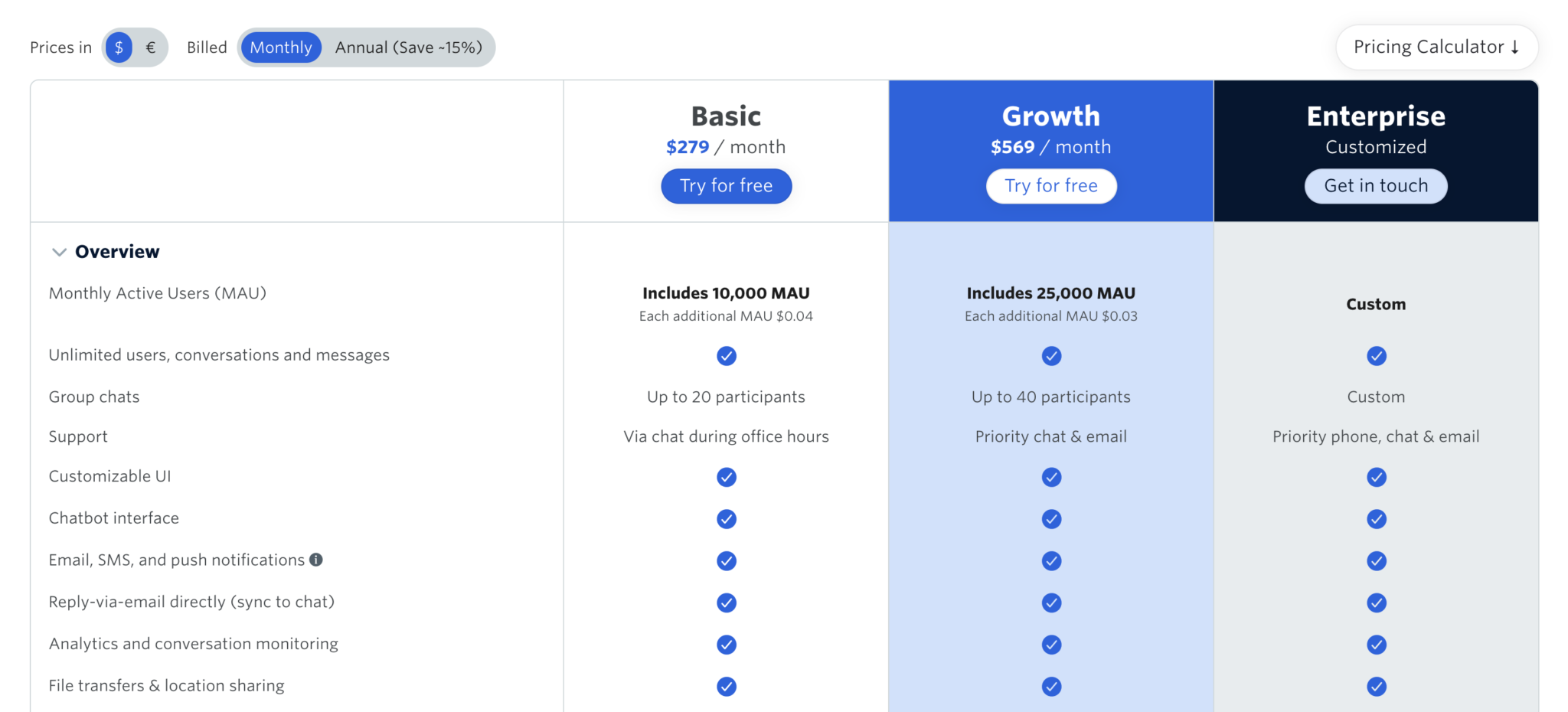 Key differences
Moderation and Reporting
One of the key Applozic benefits are advanced moderation features and reporting. On higher-tier plans, customers get access to the ban/delete user feature, downloadable general reports, and on-demand custom reports.
TalkJS provides basic moderation tools like the activity view in the dashboard where companies can monitor chats, and act accordingly. And also a pro-active way to moderate messages by suppressing information like email or links by using the mask contact info feature.
Chat UI
Applozic provides a backend-as-service with a pre-built UI for mobile (customizable by using a JSON file). If you want to add a chat to your website or web application, you'll have to build the chat UI from scratch. In that case, the Applozic integration will take at least a couple of months to finish.
TalkJS, on the other hand, provides a complete chat solution, frontend and backend, in a single package. You get the infrastructure, the code, and a fully functional chat with highly customizable UI, including the design. The UI is forward compatible, so the chat will keep working on future devices, new features, or future browser bugs. In other words, you can deploy the TalkJS chat solution in a couple of hours.
The TalkJS theme is a CSS file that allows you to tune the look and feel of the chat UI. The core UI layout stays the same, but you can make it fit the website or app design. With just a few lines of CSS, you can change the default UI (on the left) to look any way you like.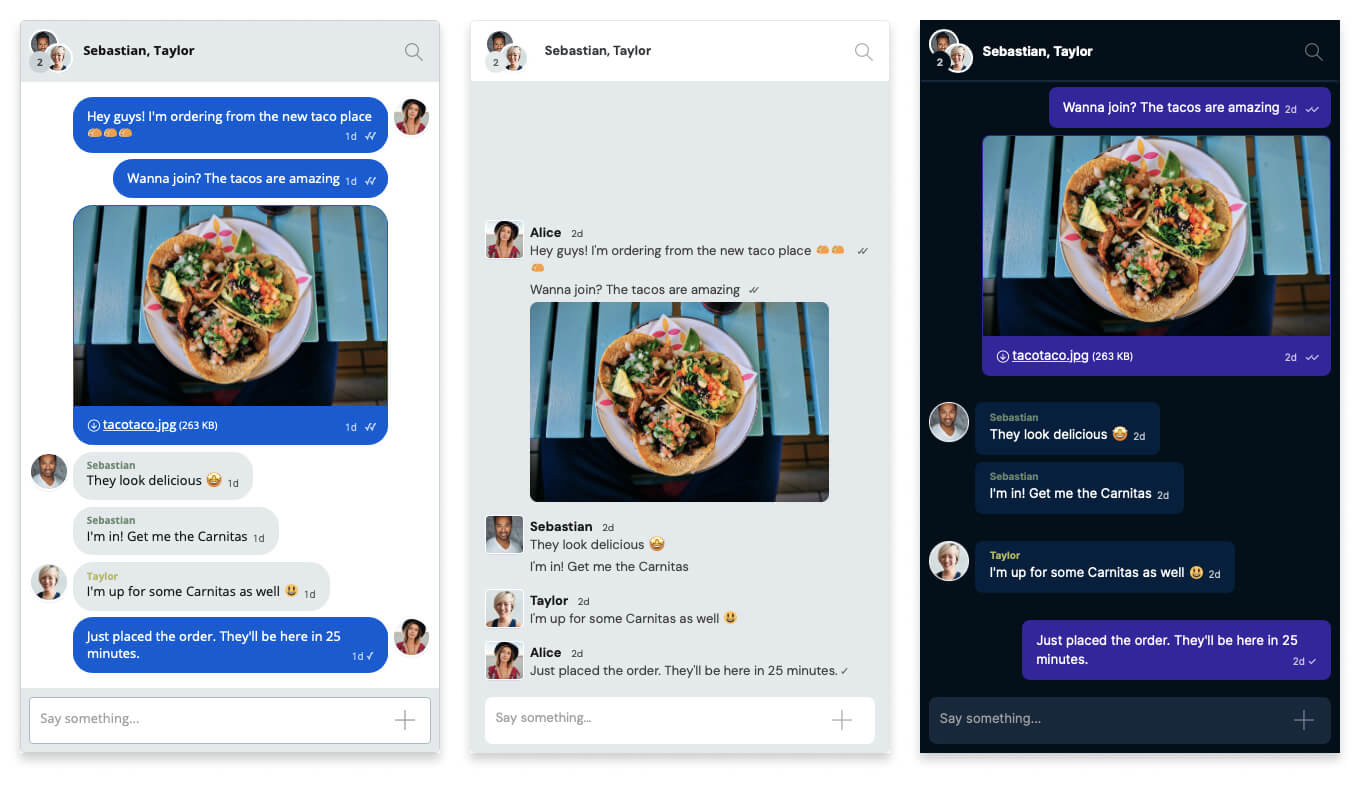 Support
TalkJS provides support via in-app chat during working hours, and it's included in all pricing plans. The entire TalkJS support team is staffed with developers. And that is something few companies can boast about. Any time you contact support via website chat or by email, you are talking to one of our developers. With no additional charges.
Notifications
In contrast to other Chat APIs that support only push notifications or require third-party API integration, Applozic and TalkJS both provide robust notification systems. It's possible to keep users in the loop across various platforms with push notifications, SMS notifications, and email notifications.
The only difference is that TalkJS supports the email to chat sync feature. For example, if the user you are chatting with goes offline for whatever reason, an email is automatically triggered and sent to that user with the message you just sent on the chat. The user can then reply to the email, and the message will land back in the chat closing the loop and making sure that the conversation is not lost.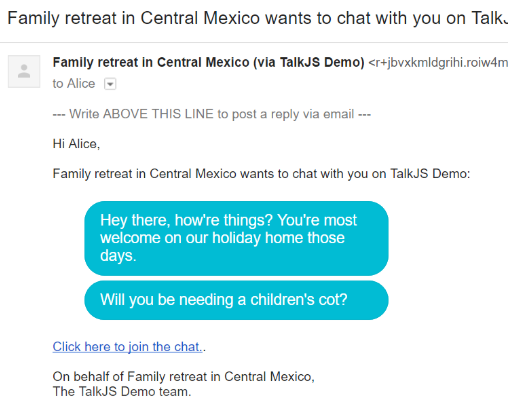 Bottom line
It comes down to the chat UI and the moderation features. If the ban/mute user feature and custom reports are a priority for your use case, then without hesitation, Applozic is the way to go. But, if you don't have a couple of months or the resources to develop the chat UI from scratch, then TalkJS and it's pre-built chat UI is the solution you need.
Ready to start coding? TalkJS is free for development and testing. You'll have plenty of time to customize and integrate your chat. You pay when you decide to go live. Try it out!