How Eldorado added chat into their in-game trading platform
In this case study, we'll show you how Atlantis Games used TalkJS to build a user-to-user chat into their latest project, an in-game trading platform called Eldorado.gg. To get all the details, we talked with Rimvydas Vaičiūnas, their Director of Marketing, who was in charge of the project.
"We considered building our own chat implementation, but we never did it because of high development, time and maintenance costs."
- Rimvydas Vaičiūnas, Director of Marketing at Atlantis Games
About Atlantis Games
Atlantis Games is a design studio based in Vilnius, Lithuania. They build innovative products for the gaming and esports industries. Their portfolio includes several successful e-commerce businesses, such as Eldorado.gg, which we'll showcase today, and many experimental projects. They are an ambitious team that simply loves video games and is excited about shaping the future of gaming.

The challenge
Eldorado operates as a marketplace. Therefore, they need a way for two parties (buyers and sellers) to connect with each other. It's important for the parties to exchange the necessary service details, and for sellers to guide the buyer through the process from activation to delivery.
Also, Eldorado has a support team to help users meet their needs. If there are any misunderstandings between the buyer and the seller, the support team can easily jump into the ongoing conversation and help solve any issues.
"Not having a chat platform put a lot of restrictions on our service and integrating it includes flexibility and smooth transactions."
- Rimvydas Vaičiūnas, Director of Marketing at Atlantis Games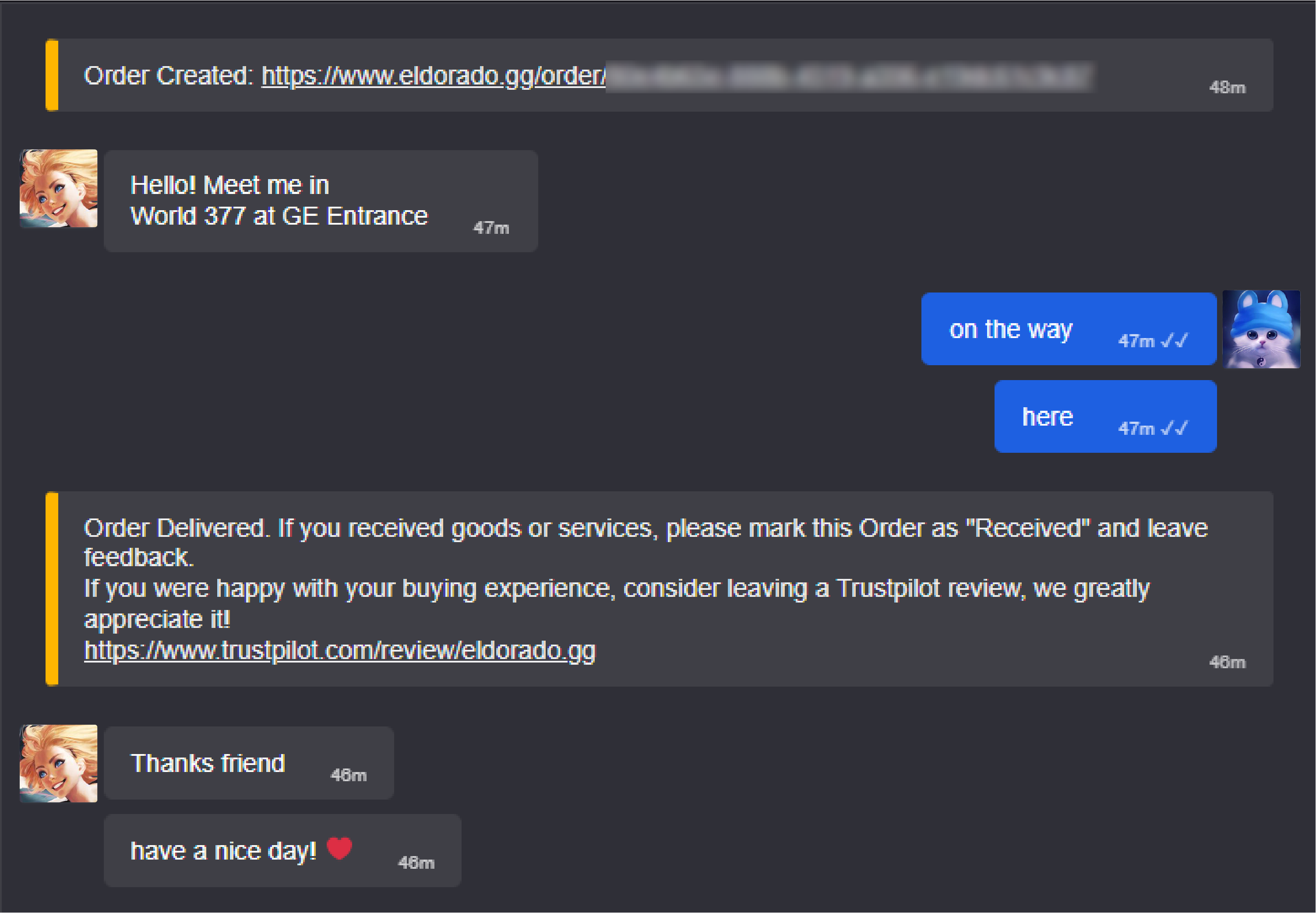 At Eldorado, some services can take from a few minutes to days, weeks, or even months to complete. A chat service was needed for the two parties to keep communicating and give updates on the ongoing process.
"We probably can live without it, but it would create a lot of development work, require more support assistance on every order and the whole process would take longer."
- Rimvydas Vaičiūnas, Director of Marketing at Atlantis Games
The solution and results
At first, they considered building their own chat implementation, but never did because of the high development, time, and maintenance costs. Although there were common hesitations about using a third-party service because of possible downtime, the team from Eldorado decided to use TalkJS.
"We have searched for other solutions, with building a chat solution ourselves as a last resort. At that moment, TalkJS appeared to be exactly what we needed, and all other competitors seemed to be harder to integrate."
- Rimvydas Vaičiūnas, Director of Marketing at Atlantis Games
TalkJS met their criteria as a flexible Chat API that works great with Angular, and that it fits well with the one-page application that they use. Also, out of the options they considered, TalkJS seemed to be the most modern chat platform in terms of design, as it offers a customizable pre-built chat UI.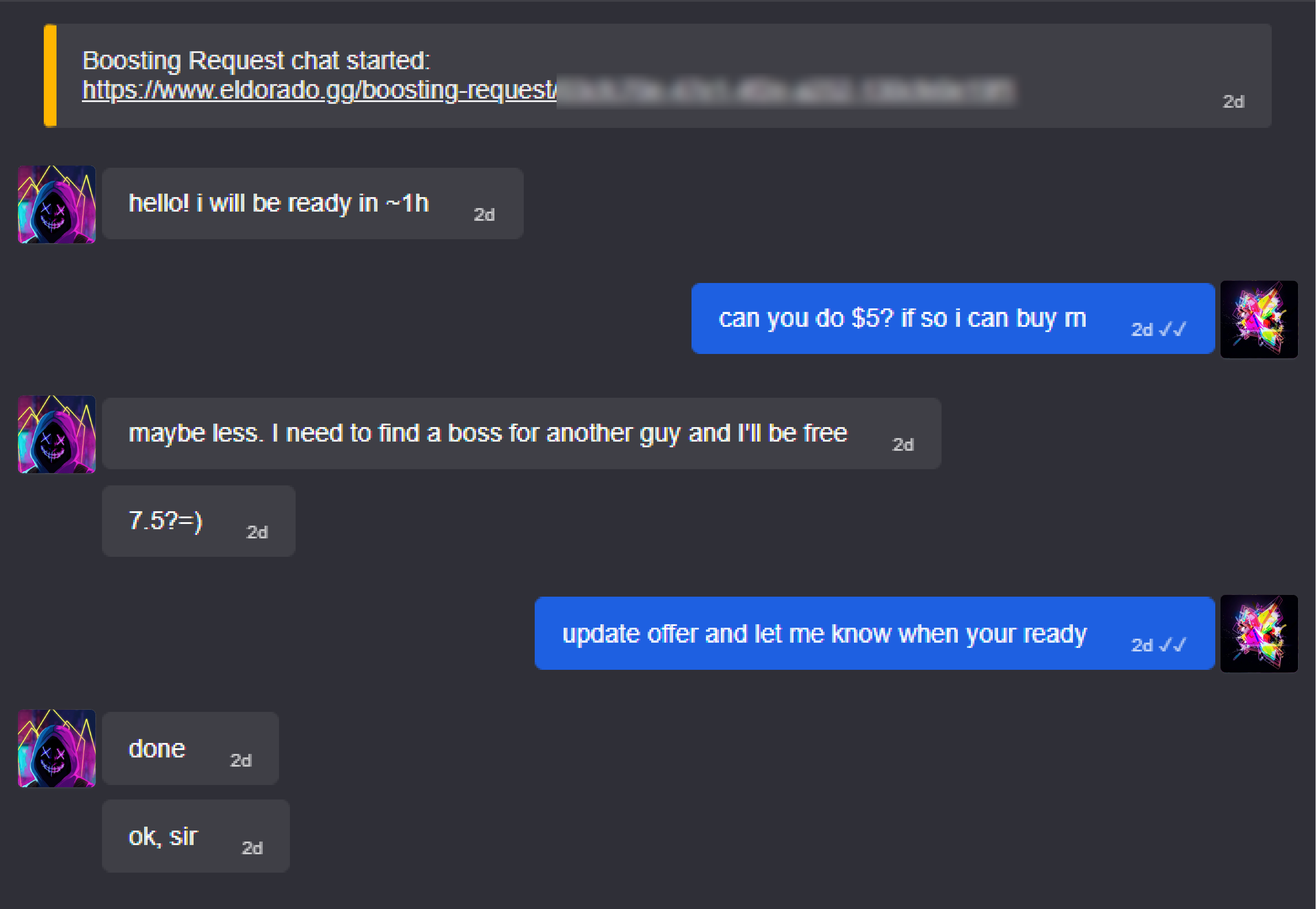 Here are Rimvydas' thoughts on TalkJS: "From day one, the solution worked perfectly. We can't compare it to anything. Eldorado is constantly growing, which also means more orders and more chats are being generated. TalkJS walked alongside us on this bumpy road. There were minor issues of downtime, but overall, TalkJS stood its ground and kept carrying the heavy load. Today, TalkJS is a vital cog for our service to operate successfully."